TOUR 1 :The Garfagnana to the Mediterranean Sea !!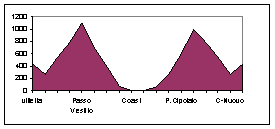 This ride departs from Braccicorti and rides via Castelnuovo, where we take to the mountain road that ascends slowly to cross over the Alpi Apuane. The Road Takes us via Isola Santa, a quaint medieval villages in the valley and then into the open mountains, along side Monte Sumbra and the Marmite del Gigante, towards Arni and the white marble quarries of the Alpi Apuane. Where we cross through the mountains at the Passo Vestito to bring us out of the tunnel with views of the mediterranean at the base of the mountains ahead of us. Our winding descent takes us through picturesque villages and olive groves and vineyards to arrive in Massa and the coast at Marina di Massa. Here we take a break for lunch and a possible swim. After, one can then cycle back up to the pass, or be taken in our transport to the top for a descnt back to Castelnuovo and Braccicorti.
Ride : 6 hrs, All Road, 52km to sea - and 52km back,
or 18km back if only coming downhill . Price : as per full day tour price.