Tour itinerary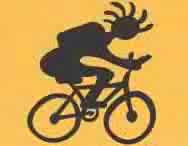 DAY 01
PISA - GARFAGNANA REGION
Pick up from Pisa airport included. allowing for most arrivals, we aim to have a group pick up time of 3pm at pisa airport. the airport is only 10min from leaning tower if you get there very early

After a 1 1/2 hr drive from Pisa, we arrive at our family owned "Agriturismo" accommodations nestled in the foothills of the Apennine Mountains. Where we relax for the rest of the afternoon and get out bikes sorted out. In the evening we will enjoy a slide show with images from the region. Traditional evening meal.
DAY 02
GARFAGNANA BIKE TOUR- orecchiella national park
Today we start with our first ride of the week with a short transfer up into the national park of the Orecchiella. Here we take a scenic track that contours behind the peak of the Pania del Corfino (1609m) and round to the village of Campaiana.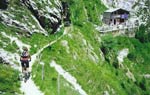 From here we climb on up and have the chance to get onto the peak of the Pania with amazing views down over the Garfagnana in all directions. From here and our lunch spot we take a fast singletrack down that winds its way through the park via the Fountain of Love, where one hopes to catch glimpses of the local wildlife. From the park and onto village of Corfino, we take an old mule track down some single tracks switchback sections into the village for a gelato or 2, before attacking the lower part of the valley,with its forest trails and singletrack before we get back to the main tarmac road and our last 2km !!! back to our lodge.
90% off road / 10% on road - 54km total
Great single track sections / fire tracks / dirt rds / forestry trails... all you could ever want !!
DAY 03
GARFAGNANA BIKE TOUR - alpi apuane tour
After breakfast we get ready for our bike tour Garfagnana as we head in the direction of Apuan Alps, or the marble mountains. We start from base, and will ride to the pastoral hamlet of Campocatino and back via the wonderful lake of Gramolazzo. In Campocatino there are interesting shepherds huts built with dry stonewalls and slate roofs, once characteristic of this area . Some of them date from the 17C. The terrains are a mix of paved and dirt roads and the ride will be about 40 km long. There are great views along the way, and great tracks to be ridden, from wide open track to twisting single track routes.
70% off rd / 30 % on rd : Total for Day 58km
Tracks : Dirt Rds / Single Track / River Crossings / Fire Trails
DAY 04
GARFAGNANA BIKE TOUR - high appennines – battisti tour
Today we take a bus transfer from the lodge from 500m upto the resort of Casone at 1310m , a winter ski station. Here we take to the bikes and trails as we head up to Passo Forbici at 1815m and the main ridge line of the Apennine Mountains. Then a fast descent to lead us into the heart of the mountains before a climb back up to 1800m and Lamalite and the refuge of Battisti. Lunch here and then some single track to test ones nerve to take us across the ridge and into a final descent that goes on for some 20km or more back to our base, via the use of wide off road track leading onto tarmac.
High Alpine Route 70% 0ff rd / 30% on rd : 62km
Excellent Single Track / Dirt Rds / Walking Trails. A 8km climb up to 1700m and then later a 2.5 hr down.
DAY 05
free day off the bikes, Lucca, OR LOCAL DAY RIDES
Day 06
GARFAGNANA BIKE TOUR – valley ride
Today we ride out of base and take to the tracks and trails of the lower valley of the Garfagnana. We ride via old roads and mule tracks to single track walking trails.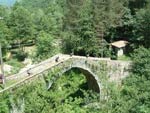 Our ride takes us through fields and meadows, through medieval towns and villages, through the heart of the Garfagnana and its traditions, that are as relaxed and as real as one could want to find. The routes are a mix of dirt track, single track and wide open paths, to make shift routes as we pick our way around the valley. Lakes, mountains, villages…it is all here !
70% off rd and 30% on : 55km + extras can be added
Mix of terrain...!! ever changing in this ride: Single Track to die for !! Medieval Rds / Dirt tracks and more !
DAY 07
GARFAGNANA – high to low – san pellegrino and sillico
We are taken back up the resort of Casone at 1310m, but this time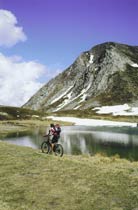 we head in the opposite direction. Our ride takes us up to Monte Giovarello and a single track route to Passo Radici, an exciting path that really gets you going !!!. From the Passo, we take to tarmac for a short section, of which it is part of the Giro D'Italia. This takes us up to Alpe di San Pellegrino and the onto a widing track that starts to descend as if forever !!!. We are on wide open vehicle track, although only used for 4X4 it holds a lot of surprises and excitement for the ride down !!! The route takes us all the way down to Capraia and then onto the village of Sillico, with an amazing vantage point over the valley below. We continue to descend, back into the valley and the town of Pieve Fosciana. For our final section back to base. A full on high to low with hight lost from 1700m down to 370m at the lowest part of the valley, a great way to finish the riding in the Garfagnana.
85% off rd / 15 % on rd : 64km
Route mix of Dirt track / forestry trails to excellent single track sections. Testing your stamina & all you have learnt throughout the week !!
DAY 08
tour ends – transfer to pisa by bus, time to look at the tower before connecting to flight back to UK.
Transfer provided to Pisa airport, depends on flight departures, we aim to be there for 2pm. earlier departures we may be able to accomodate for or arrange / taxi or train.
Am transfer to Pisa for journey home.